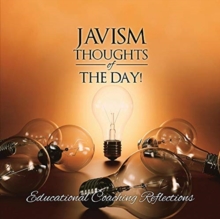 Javism Thoughts of the Day : Educational Coaching Reflections
0578640511 / 9780578640518
25 x 222 mm, 0 grams 226 pages
Javism thoughts of the day are educational beliefs to foster reflection and actions to improve district and schools to become more culturally and racially inclusive for all students.
The collection of thoughts are from over 20 years of educational experience by Edwin Lou Javius.
His uncanny wit and candour motivate, inspires and facilitates district and school leaders to possess the courage to identify and eradicate institutional and structural inequities which prohibit adults and students from excellence.
Many of the quotes will make you reflect on your daily actions as you lead educators to be Equity conscious.
If the reflections spur you to act as a leader, the book was worth it!
As the CEO/President of EDEquity Inc., Mr. Javius has lead his firm in facilitating result-driven professional development to transform leaders and teacher practice through the lens of Educational Equity.
Through courageous equity leadership, EDEquity works with educators to close the "knowing and doing" gap!
BIC: