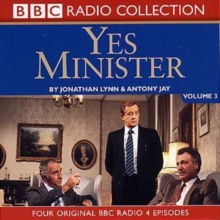 Yes, ministerVolume 3 - Volume 3
0563529466 / 9780563529460
Four episodes of machinations and manipulation from the classic BBC political satire.
The Compassionate Society/The Greasy Pole/The Skeleton in the Cupboard/A Question of Loyalty; The sustained dry wit of the dialogue and the wonderful interplay between the three main characters - Jim Hacker, Sir Humphrey and Bernard Wooley - made Jonathan Lynn and Antony Jay's satirical comedy compulsive viewing.
The strength of the writing makes these audios a joy to listen to.
BIC:
Title Unavailable: Out of Print