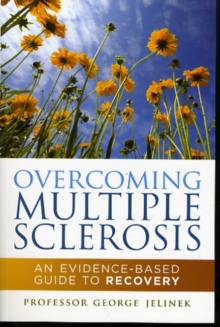 Overcoming multiple sclerosis : an evidence-based guide to recovery
1855861119 / 9781855861114
Usually dispatched within 4 weeks
This book offers real hope for people with multiple sclerosis.
Multiple sclerosis (MS) is a serious, progressively disabling neurological condition for which current medical treatment is not particularly effective and has many side-effects.
Professor George Jelinek, an experienced medical clinician and researcher, provides a genuine alternative.
Through an exhaustive, evidence-based analysis of medical research, Professor Jelinek reached the surprising conclusion that MS is a disease largely determined by lifestyle factors.
He has demonstrated that people with MS who modify their diet, exercise habits, and other aspects of lifestyle can stabilise the illness, and potentially recover.
Professor Jelinek's experience with his mother's death from MS, and his own diagnosis in 1999, lend an urgency and compassion to this meticulous work.
Professor Jelinek's recommendations will change the lives of thousands of people with MS, and support their loved ones.
BIC:
MJN Neurology & clinical neurophysiology, VXH Complementary therapies, healing & health