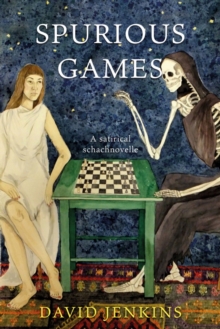 Spurious games
1838593527 / 9781838593520
A local chess player is discovered dead, his untimely end seeming suspicious.
Detective Inspector John Logos of Cornwall's St Borstal Constabulary is called in to investigate what turns out to be a serial killer running amok in the sedate contemplative world of Cornish chess.
The detectives quickly find themselves as pawns in the game of an arrogant mastermind calling himself 'The Turk' who taunts them with chess-related clues.
Baffled, they call in Caradoc Pritchard, an eccentric Welsh Professor, serial iconoclast and expert in forensic profiling.
Together they must work against the clock to predict the killer's next move. As the action comes to a dramatic climax only one player can win, but only if he avoids stalemate. A literary novel of ideas masquerading as a whodunit, Spurious Games exhibits a consistently droll sense of humour that belies its essential seriousness as an extended riff on authenticity.
Despite its roots in chess, there are a number of important 'side shows', all treated with equal ironic irreverence.
BIC: