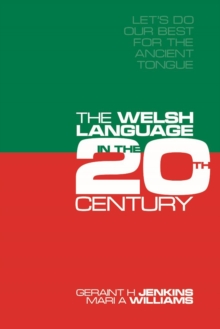 'Let's Do Our Best for the Ancient Tongue' : The Welsh Language in the Twentieth Century (2 New edition)
1783161787 / 9781783161782
Stock expected by 28/05/2022
160 x 230 mm, 1161 grams 675 pages, No
Postgraduate, Research & Scholarly Learn More
Undergraduate
This is an authoritative and thorough analysis of the fortunes of the Welsh language in the most tumultuous period of its history.
Twenty-one chapters discuss not only the numerical and territorial decline of Welsh but also its struggle for official recognition and its role in a wide variety of social domains.
Of all the memorable phrases coined in the twentieth century, none has had greater resonance for the Welsh speaker than 'Tynged yr Iaith' (The Fate of the Language), and this volume provides a stimulating commentary on the processes of linguistic change, decay and revival experienced by the oldest spoken language in Britain.
The fruit of the second major research project of the Centre for Advanced Welsh and Celtic Studies of the University of Wales, this volume will interest and intrigue the general public as well as specialists in the field and help readers to familiarize themselves with the history of a language which, over the centuries, has been an integral part of the everyday life of the Welsh people and their sense of nationhood.
BIC: