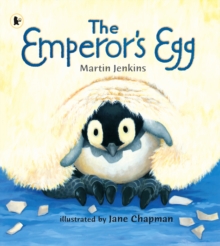 The emperor's egg
1406313017 / 9781406313017
27 cm 29 p. : chiefly col. ill.
Reprint. Originally published: 1999.
An award-winning picture book about the Emperor penguin's parenting. The Emperor penguin is the only large animal to remain on the Antarctic mainland throughout its bitterly inhospitable winter.
Once the female has laid her egg, she heads back to the sea, leaving the male to incubate it.
He then spends two months standing on the freezing cold ice with the egg on his feet!
This is his story.
BIC:
5AH Interest age: from c 7 years, YBC Picture books, YNNR Wildlife (Children's / Teenage)
The title has been replaced.To check if this specific edition is still available please contact Customer Care +44(0)1482 384660 or schools.services@brownsbfs.co.uk, otherwise please click 9781406366990 to take you to the new version.
Title Unavailable: Out of Print
Other Formats