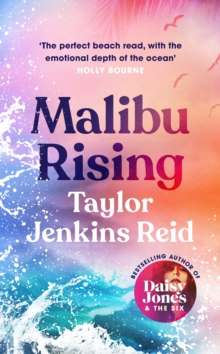 Malibu rising
1786331527 / 9781786331526
The new Sunday Times bestseller from the author of Daisy Jones & The Six'Immerses us in a glamorous, star-studded world, but is full of raw human emotion.
Its characters felt completely real to me - each one is flawed and messy and impossible not to love.' BETH O'LEARY_________________________A lifetime holding it together. One party will bring it crashing down. Malibu: August, 1983. It's the day of Nina Riva's annual end-of-summer party, and anticipation is at a fever pitch.
Everyone wants to be around the famous Rivas: Nina, the talented surfer and supermodel; brothers Jay and Hud, one a championship surfer, the other a renowned photographer; and their adored baby sister, Kit.
Together, the siblings are a source of fascination in Malibu and the world over-especially as the offspring of the legendary singer, Mick Riva. By midnight the party will be completely out of control. By morning, the Riva mansion will have gone up in flames. But before that first spark in the early hours before dawn, the alcohol will flow, the music will play, and the loves and secrets that shaped this family's generations will all come bubbling to the surface. Malibu Rising is a story about one unforgettable night in the life of a family: the night they each have to choose what they will keep from the people who made them . . . and what they will leave behind. _________________________'The perfect, literal, beach read, with the emotional depth of the ocean' HOLLY BOURNE'A sex-on-the-beach cocktail (quite literally) of a book' PANDORA SYKES'This summer's must-read novel' SARRA MANNING, RED'Sun-drenched ... addictive and fun, it's an essential addition to your summer reading list' STYLIST, Best Fiction of 2021'I adored everything about this' DAILY MAIL'Unapologetically escapist beach-read fiction' SUNDAY TIMES'I did not want this book to end!' PRIMA, Book of the Month'Pure exhilaration' THE TIMES'Imagine Blue Water High and Selling Sunset had a lovechild' EVENING STANDARD'A superfun foray into the 1980s ...
Delicious' SUNDAY TELEGRAPH, Novel of the Week'Hugely enjoyable' MAIL ON SUNDAY____________________Praise for Daisy Jones & The Six'Utterly believable . . . fantastically enjoyable' THE TIMES'Pitch perfect' SUNDAY TIMES'Prepare to be obsessed' STYLIST'I devoured this in a day, falling head over heels for it' REESE WITHERSPOON'I LOVE it . . . I can't remember the last time I read a book that was so fun' DOLLY ALDERTON'I didn't want this book to end' FEARNE COTTON
BIC:
1KBBWF California, 3JJPN c 1980 to c 1990, AVH Individual composers & musicians, specific bands & groups, FA Modern & contemporary fiction (post c 1945), FR Romance