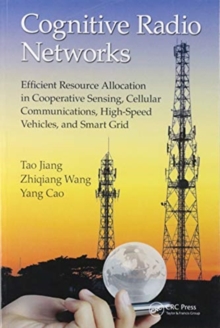 Cognitive radio networks : efficient resource allocation in cooperative sensing, cellular communications, high-speed vehicles, and smart grid
0367575809 / 9780367575809
Usually dispatched within 4 weeks
24 cm 148 pages : illustrations (black and white)
Resource allocation is an important issue in wireless communication networks.
In recent decades, cognitive radio-based networks have garnered increased attention and have been well studied to overcome the problem of spectrum scarcity in future wireless communications systems.
Many new challenges in resource allocation appear in cognitive radio-based networks.
This book focuses on effective resource allocation solutions in several important cognitive radio-based networks, including opportunistic spectrum access networks, cooperative sensing networks, cellular networks, high-speed vehicle networks, and smart grids. Cognitive radio networks are composed of cognitive, spectrum-agile devices capable of changing their configuration on the fly based on the spectral environment.
This capability makes it possible to design flexible and dynamic spectrum access strategies with the purpose of opportunistically reusing portions of the spectrum temporarily vacated by licensed primary users.
Different cognitive radio-based networks focus on different network resources, such as transmission slots, sensing nodes, transmission power, white space, and sensing channels.
This book introduces several innovative resource allocation schemes for different cognitive radio-based networks according to their network characteristics: Opportunistic spectrum access networks - Introduces a probabilistic slot allocation scheme to effectively allocate the transmission slots to secondary users to maximize throughput Cooperative sensing networks - Introduces a new adaptive collaboration sensing scheme in which the resources of secondary users are effectively utilized to sense the channels for efficient acquisition of spectrum opportunitiesCellular networks - Introduces a framework of cognitive radio-assisted cooperation for downlink transmissions to allocate transmission modes, relay stations, and transmission power/sub-channels to secondary users to maximize throughputHigh-speed vehicle networks - Introduces schemes to maximize the utilized TV white space through effective allocation of white space resources to secondary usersSmart grids - Introduces effective sensing channel allocation strategies for acquiring enough available spectrum channels for communications between utility and electricity consumers
BIC: