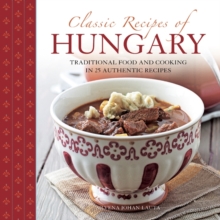 Classic recipes of Hungary : traditional food and cooking in 25 authentic dishes
0754828824 / 9780754828822
16 cm 64 pages : illustrations
This book explores the distinctive cuisine of Hungary with 25 classic recipes presented in a stylish gift book.
It features Hungarian traditional dishes such as nourishing goulash, spicy stews, hearty strudels and dumplings, along with lighter options such as chilled soups, dips, salads and pasta dishes.
Chapters include Soups and Appetizers; Main Meals; Vegetables and Side Dishes; and Desserts, Cakes and Bakes.
The introduction offers a fascinating overview of the Hungarian landscape, festivals and key ingredients.
You can enjoy the varied tastes of Hungary with recipes like Kohlrabi, Apple and Almond Soup; Cottage Cheese and Sweet Paprika Dip; Noodles with Cheese and Bacon Sauce; Hussar Beef; and Roasted Pears with Honey.
It includes beautiful photographs of practical steps and final dishes, and nutritional information for every recipe.
Landlocked by no less than seven countries, Hungarian cuisine is a melting pot of influences from as far afield as Germany, Italy, Austria, Poland, Slovakia and Turkey, the latter introducing paprika and coffee.
The 25 delicious recipes in this little cookbook offers a fascinating introduction to this rich culinary heritage. Each dish is selected to capture the spirit of Hungary.
You can try Chilled Pear Soup for a cool start to a meal, Feta and Paprika Bruschetta as a popular everyday snack, or Venison and Mushroom Goulash for a family dinner.
You can round off your meal with a delicate flaky pastry such as Poppy Seed and Apple Strudel.
The stunning photographs and clear instructions will make it easy to explore this wonderful national cuisine in your own kitchen to impress family and friends.
BIC: