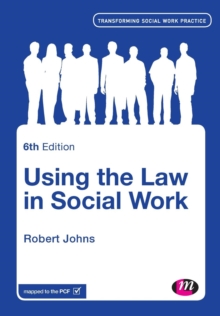 Using the law in social work (6th edition)
1446272699 / 9781446272695
25 cm xxvii, 200 pages : illustrations (black and white)
Previous edition: Exeter: Learning Matters, 2011.
This book will help social work students gain a secure foothold in understanding aspects of law as applied to social work practice.
It is not a law manual or full of complicated legal jargon remote from the everyday realities of practice, but rather brings the reader closer to safe, legally-appropriate social work.
It not only covers recent changes to legislation such as The Children and Families Act 2014 and The Care Act 2014, but also other key areas of legislation and policy including human rights , youth justice, child protection and mental capacity. There are updates to case law and codes of practice and numerous case studies and reflective activities to help underpin knowledge and learning.
Affordable, practical and tells you exactly what you need in order to pass assignments and prepare for practice. Key Updates include new information on:* The Children and Families Act 2014* The Care Act 2014* Working Together to Safeguard Children (2012) * Mental Capacity Act 2005This book is in the Transforming Social Work Practice series.
All books in the series are affordable, mapped to the Social Work Curriculum, practical with clear links between theory & practice and written to the Professional Capabilities Framework.
BIC:
1DBKE England, 1DBKW Wales, JKSN Social work, LAY Law as it applies to other professions, LNT Social law