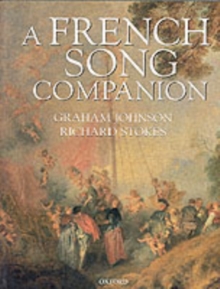 A French song companion
0199249660 / 9780199249664
postgraduate Learn More
research & professional
undergraduate
Reprint. Originally published: 2000.
Named as Outstanding Academic Book by Choice
The French Song Companion is the most comprehensive book of French melodie in any language.
The great accompagnist Graham Johnson, a noted authority of song, provides repertoire guides to the work of some 150 composers - the majority of them from France, but including British, American, German, Spanish, and Italian musicians who have written French vocal music.
There are major articles on such figures as Faure, Duparc, Debussy, Ravel, and Poulenc; substantial articles on Bizet, Chabrier, Gounod, Chausson, Hahn, and Satie; and reassessments of such composers as Massenet, Koechlin, and Leguerney.
A host of less celebrated figures who have contributed to the genre take their place in a book which is both informative and entertaining.
The biographical articles are supplemented by the song translations of Richard Stokes, some 700 in all, and a veritable treasury of great French poetry from the fifteenth to the twentieth centuries.
These stand in their own right as indispensable to music lovers, concert-goers, and professional singers and their accompanists. This is a book which not only reflects the repertoire as found in today's concert halls, but also encourages performers and armchair enthusiasts to explore the neglected highways and biways of an endlessly fascinating and highly civilised body of music.
BIC:
AVA Theory of music & musicology, AVGC2 Medieval & Renaissance music (c 1000 to c 1600), AVGC3 Baroque music (c 1600 to c 1750), AVGC4 Classical music (c 1750 to c 1830)