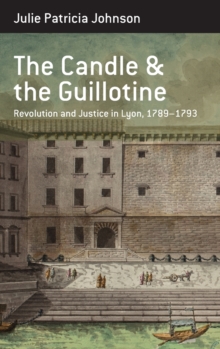 The candle and the guillotine : revolution and justice in Lyon, 1789-93
1789206766 / 9781789206760
Postgraduate, Research & Scholarly Learn More
Undergraduate
As in a number of France's major cities, civil war erupted in Lyon in the summer of 1793, ultimately leading to a siege of the city and a wave of mass executions.
Using Lyon as a lens for understanding the politics of revolutionary France, this book reveals the widespread enthusiasm for judicial change in Lyon at the time of the Revolution, as well as the conflicts that ensued between elected magistrates in the face of radical democratization.
Julie Patricia Johnson's investigation of these developments during the bloodiest years of the Revolution offers powerful insights into the passions and the struggles of ordinary people during an extraordinary time.
BIC:
1DDF France, 3JF c 1700 to c 1800, HBJD European history, HBTV Revolutions, uprisings, rebellions, LNAA1 Judicial powers