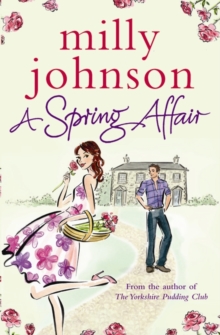 A spring affair
1847392822 / 9781847392824
THE QUEEN OF FEEL-GOOD FICTION!'Every time you discover a new Milly book, it's like finding a pot of gold' Heat'Clear your house and clear your mind.
Don't let life's clutter dictate to you. Throw it away and take back the control!' When Lou Winter picks up a dog-eared magazine in the dentist's waiting room and spots an article about clearing clutter, she little realises how it will change her life.
What begins as an earnest spring clean soon spirals out of control. Lou's loved ones grow disgruntled. Why is clearing out cupboards suddenly more important than making his breakfast, her husband Phil wonders?
The truth is, the more rubbish Lou lets go of, the more light and air can get to those painful, closed-up places at the centre of her heart. Even lovely Tom Broom, the man who delivers Lou's skips, starts to grow concerned about his sweetest customer.
But Lou is a woman on a mission, and not even she knows where it will end . . . For fans of Katie Fforde and Cathy Bramley, A Spring Affair will warm your heart.
What people are saying about Milly Johnson: `An irresistibly feel-good read'Jane Costello `There should be a public health warning with this book: only read if you can afford to lose a day.
I emerged from its pages in a mood of sublime contentment' Debby Holt `Another gem from Milly Johnson' The Sun `An irresistibly warm and romantic read' S Magazine `A warm, funny, and touching tale about friendship, relationships, and everyday lives.
I loved it' Matt Dunn
BIC: