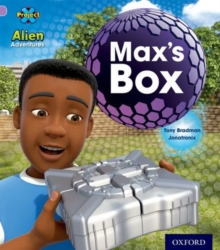 Project X: Alien Adventures: Lilac:Max's Box
Part of the Project X series
0198492812 / 9780198492818
195 x 202 mm, 50 grams 12 pages, Colour
The first two stories are wordless and complement Phase 1 of Letters and Sounds.
Max's Box is a retelling of the story of how Max finds a silver box - a discovery that will change his life forever.
Inside the box are four watches that allow the wearer to shrink.
In In the Sky Max and Ant are camping in the garden when they see something strange in the sky little do they know thatNok the alien has just crash-landed on Earth. The further four books follow Letters and Sounds Phase 2, sets 1 and 2.
In Splat! Cat and Tiger build a snowman in the park - if you look carefully, you may be able to spot a micro-alien in the story building his own Nokman!
One rainy day, Max decides to build himself a rocket using cardboard and plastic bottles Find out what happens in Max's Rocket.
In The FishingTrip, Ant and his dad try to catch a fish.
Max and Tiger get into a mess when they try to make some muffins in Let's Bake!Each book comes with notes on the inside front and back covers for teachers, TAs and parents/carers, which give question prompts and points for discussion, phonic practice words, challenge words, and additional activities that children can do.
BIC:
4KHF For National Curriculum Key Stage 1, YQCR Educational: English language: readers & reading schemes