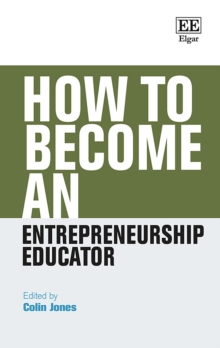 How to Become an Entrepreneurship Educator
1789900026 / 9781789900026
With an increasing global demand for entrepreneurship education, and the need to prepare students for the challenges of an ever-changing world of work, Colin Jones tackles the difficult question: just where do these educators come from to meet this demand?How to Become an Entrepreneurship Educator is the first book to tackle how we create expert entrepreneurship educators at all levels of education.
Using activity theory as a lens, the book unites the developmental trajectories of 20 eminent contemporary experts at different levels of enterprise and entrepreneurship education.
Jones identifies these journeys in order to share the collective lessons learned.
By highlighting a range of global insights, readers are enabled to reflect on their own strategies, creating order in the domain of enterprise and entrepreneurship education - an order that holds the power to propel the domain of enterprise and entrepreneurship education onwards to new heights. Such highly reflective accounts of how to teach entrepreneurship will be an invaluable guide to educators from numerous backgrounds to contemplate new strategies for teaching enterprise and entrepreneurship in the context of their own choosing.
BIC:
* Variable discounts between 0% and 15% are applied to items where BBfS cannot determine exact discounts from suppliers.