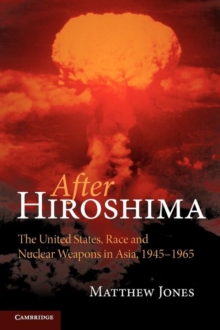 After Hiroshima : the United States, race and nuclear weapons in Asia, 1945-1965
1107411483 / 9781107411487
Usually dispatched within 4 weeks
Reprint. Originally published: 2010.
By emphasising the role of nuclear issues, After Hiroshima, published in 2010, provides an original history of American policy in Asia between the dropping of the atomic bombs on Japan and the escalation of the Vietnam War.
Drawing on a wide range of documentary evidence, Matthew Jones charts the development of American nuclear strategy and the foreign policy problems it raised, as the United States both confronted China and attempted to win the friendship of an Asia emerging from colonial domination.
In underlining American perceptions that Asian peoples saw the possible repeat use of nuclear weapons as a manifestation of Western attitudes of 'white superiority', he offers new insights into the links between racial sensitivities and the conduct of US policy, and a fresh interpretation of the transition in American strategy from massive retaliation to flexible response in the era spanned by the Korean and Vietnam Wars.
BIC:
1F Asia, 1KBB USA, 3JJPG c 1945 to c 1960, 3JJPK c 1960 to c 1970, HBLW3 Postwar 20th century history, from c 1945 to c 2000, JPS International relations, JWMN Nuclear weapons