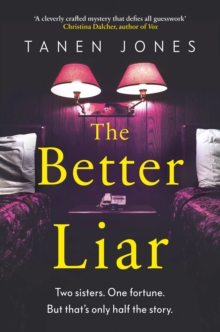 The better liar
1787301478 / 9781787301474
'The final twist turns out to be a full-on gut punch' Sunday Times HOW WELL DO YOU KNOW YOUR FAMILY?
Estranged for a decade, sisters Leslie and Robin must reunite if they are to claim the fortune their father left them.
Leslie desperately needs that money, but when she arrives at her sister's apartment, she finds her body instead.
Leslie needs another plan. Without Robin, she won't see a penny. Mary, an aspiring actress, spends her nights slinging beers at a seedy restaurant.
She'd do anything to start her life over. When Leslie offers her a huge sum of money and the chance to be someone else - to be Robin - she takes it. But Robin's life isn't as straightforward as Mary thought it would be. And Leslie seems to have secrets and a past of her own . . . The question is: who is the better liar? 'Gripping, suspenseful' Daily Mail 'A compulsively page-turning story' Claire Fuller, author of Bitter Orange 'A brilliantly claustrophobic thriller with a gasp-inducing sting in the tail' Christobel Kent, author of The Loving Husband
BIC: