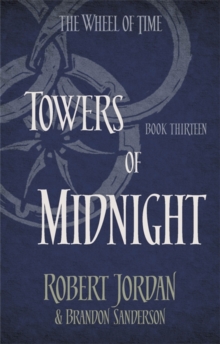 Towers of midnight
0356503941 / 9780356503943
20 cm 955 pages : map (black and white)
Reprint. Originally published: 2010.
Soon to be a major Amazon Prime TV series The thirteenth novel in the Wheel of Time series - one of the most influential and popular fantasy epics ever published. The Last Battle has started. The seals on the Dark One's prison are crumbling. The Pattern itself is unravelling, and the armies of the Shadow have begun to spill out of the Blight. Perrin Aybara is haunted by spectres from his past.
To prevail, he must find a way to master the wolf within him or lose himself to it for ever. Meanwhile, Matrim Cauthon prepares for the most difficult challenge of his life. The Tower of Ghenjei awaits, and its secrets will reveal the fate of a friend long lost. The end draws near. It's time to roll the dice. 'Epic in every sense' Sunday Times'With the Wheel of Time, Jordan has come to dominate the world that Tolkien began to reveal' New York Times'[The] huge ambitious Wheel of Time series helped redefine the genre' George R.
R. Martin'A fantasy phenomenon' SFXThe Wheel of TimeThe Eye of the WorldThe Great HuntThe Dragon RebornThe Shadow RisingThe Fires of HeavenLord of ChaosA Crown of SwordsThe Path of DaggersWinter's HeartCrossroads of TwilightKnife of DreamsThe Gathering StormTowers of MidnightA Memory of LightNew Spring (prequel) The Wheel of Time Companion
BIC: