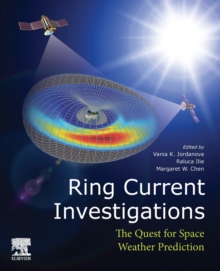 Ring Current Investigations : The Quest for Space Weather Prediction
012815571X / 9780128155714
Ring Current Investigations offers a comprehensive description of ring current dynamics in the Earth's magnetosphere as part of the coupled magnetosphere-ionosphere system.
In order to help researchers develop a deeper understanding of the fundamental physics of geomagnetic storms, it includes a detailed description of energetic charged particles injection, trapping, and loss.
It reviews historical and recent advances in observations, measurements, theory and simulations of the inner magnetosphere and its coupling to the ionosphere and other surrounding plasma populations.
In addition, it compares the physics of ring currents at other strongly magnetized planets in the solar system, specifically Jupiter, Saturn, Uranus and Neptune, with the ring current system at Earth. Providing a description of the most important space weather effects driven by inner magnetospheric energetic particles during geomagnetic storms and present capabilities for their nowcast and forecast, Ring Current Investigations is an important reference for researchers in geophysics and space science, especially related to plasma physics, the ionosphere and magnetosphere, solar-terrestrial relations, and spacecraft anomalies.
BIC:
PHK Electricity, electromagnetism & magnetism, PHVG Geophysics, RBG Geology & the lithosphere, TTD Space science