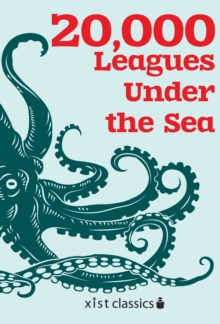 Twenty Thousand Leagues Under the Sea
1623958393 / 9781623958398
20,000 Leagues Under the Sea tells the story of Captain Nemo and his submarine Nautilus as they travel deep into the ocean. Originally published in French by Jules Verne in 1870, this is early science fiction at its best and strangest.
Read the book that was ahead ot its time and spawned many adaptations in film, tv and literature.
This Xist Classics edition has been professionally formatted for e-readers with a linked table of contents.
This ebook also contains a bonus book club leadership guide and discussion questions.
We hope you'll share this book with your friends, neighbors and colleagues and can't wait to hear what you have to say about it.Xist Publishing is a digital-first publisher.
Xist Publishing creates books for the touchscreen generation and is dedicated to helping everyone develop a lifetime love of reading, no matter what form it takes
BIC: