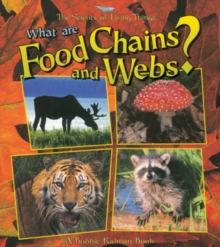 What Are Food Chains and Webs?
0865058881 / 9780865058880
Usually dispatched within 2 weeks
180 x 230 mm, 140 grams 32 pages
Primary & Secondary Education (US: Elementary & High School) Learn More
This title is intended for ages 6-12. Sunlight does not go very deep into water so seaweed must grow at the surface where its rays can reach them.
Starting with the sun, food chains link together plants and animals in various ecosystems to help them survive.
This book describes these connections in a clear manner that children will understand.
It includes fascinating diagrams which show children: the connection between herbivores, carnivores, scavengers, decomposers, and themselves; concepts such as energy pyramids, photosynthesis, and consumer hierarchies; an entertaining food web game.
BIC:
YNNR Wildlife (Children's / Teenage), YNT Science & technology: general interest (Children's / Teenage)