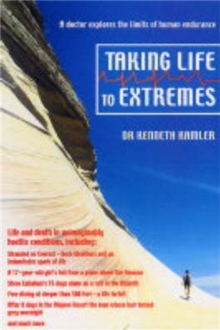 Extreme survival : a doctor explores the limits of human endurance
184119879X / 9781841198798
Stock expected by 21/04/2020
'If the chanting stops, he will die. My patient will die. I was certain of this-as certain as someone crouching in an unheated tent sitting on the highest mountain in the world can feel about anything...' Ken Kamler (author of Doctor on Everest, doctor, VP of the Explorer's Club, NASA consultant) knows what happens when bodies are pushed to their limits.
He has been to and studied the world's most inhospitable regions, and seen who survived and who didn't.
This book takes readers into six environments: underwater, high seas jungle, desert, high altitude, and outer space.
Telling the stories of his own and others' extraordinary brushes with death, he explores the body's reactions to heat, cold, pressure, starvation, exhaustion, and exposure, and reveals its miraculous survival strategies.
A scientific nail-biter that takes readers where no reality television show would dare go, and proves what survival really means.
BIC: