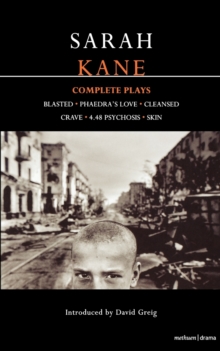 Complete plays - "Blasted", "Phaedra's Love", "Cleansed", "Crave", "4.48 Psychosis", "Skin"
0413742601 / 9780413742605
When Blasted was first produced at the Royal Court in 1995 it was hailed jointly as a masterpiece and a "disgusting piece of filth" (Daily Mail).
Subsequently that play, and the others that followed, have been produced all over the world.
This anthology includes Kane's never-before-published Channel 4 screenplay, Skin.
BIC: