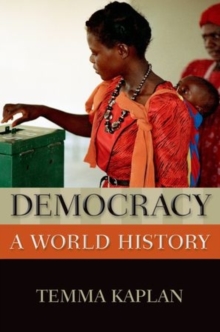 Democracy : a world history
0195338081 / 9780195338089
Stock expected by 09/04/2020
24 cm viii, 155 pages : illustrations (black and white)
At a moment when the term "Democracy " is evoked to express inchoate aspirations for peace and social change or particular governmental systems that may or may not benefit more than a select minority of the population, this book examines attempts from ancient Mesopotemia to the democratic movements of the early twenty-first century to sustain and improve their own lives and those of outsiders who have migrated into territory they regard as their own.
Democraticactivists have formed organizations to regulate the distribution of water, to restore the environment, and to assure that they and their children will have a future.
They have organized their relations with deities and those who held secular power, and they have created particular institutions that theyhoped would help them shape a good, free, and creative life for themselves and those who follow.
They have also created laws and representative bodies to serve their needs on a regular basis and have written about the difficulties those they have elected to office have maintaining their ties to those who brought them to power in the first place.
Since early times, proponents of direct or participatory democracy have come into conflict with the leaders of representative institutions that claim singular power over democracy.
Patriots of one form or another have tried to reclaim the initiative to define what democracy should mean and who should manage it.
Frequently people in small communities, trade unions, repressed, exploited, or denigrated racial, religious, political, or sexual groups have marched forward using the language ofdemocracy to find space for themselves and their ideas at the center of political life.
Sometimes they have re-interpreted the old laws, and sometimes they have formulated new laws and institutions in order to gain greater opportunities to debate the major issues of their time.
Whatever conclusions theycome to, they are only temporary since changing times require new solutions, assuring that democracy can only survive as a continuous process.
As such and as a system of beliefs, democracy has many flaws.
But looking cross-culturally and trans-historically, it still seems like democracy still holds promise for improving the lives of all the world's people.
BIC:
JFCX History of ideas, JPF Political ideologies, JPHV Political structures: democracy