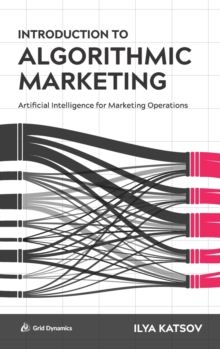 Introduction to Algorithmic Marketing : Artificial Intelligence for Marketing Operations
0692989048 / 9780692989043
Usually dispatched within 4 weeks
152 x 229 mm, 1084 grams 508 pages, 140 Illustrations
"A comprehensive and indispensable reference for anyone undertaking the transformational journey towards algorithmic marketing."
―Ali Bouhouch, CTO, Sephora Americas
"The book gives the executives, middle managers, and data scientists in your organization a set of concrete, actionable, and incremental recommendations on how to build better insights and decisions, starting today, one step at a time."
―Victoria Livschitz, founder and CTO, Grid Dynamics
Introduction to Algorithmic Marketing is a comprehensive guide to advanced marketing automation for marketing strategists, data scientists, product managers, and software engineers. It summarizes various techniques tested by major technology, advertising, and retail companies, and it glues these methods together with economic theory and machine learning. The book covers the main areas of marketing that require micro-decisioning – targeted promotions and advertisements, eCommerce search, recommendations, pricing, and assortment optimization.
BIC:
KJS Sales & marketing, KJT Operational research, UYQ Artificial intelligence