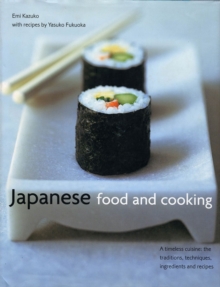 Japanese food and cooking : a timeless cuisine
0754825027 / 9780754825029
Stock expected by 04/03/2020
23 cm 256 p. : ill. (chiefly col.), col. map
Reprint. Originally published: 2001.
This is a timeless cuisine: the traditions, techniques, ingredients and recipes.
You can discover the philosophy and traditions that influence Japanese food preparation, its specialist equipment, cooking techniques and presentation.
It includes a photographic identification guide to Japanese ingredients, from abura-age to yuzu.
It features classic and contemporary Japanese dishes, from salmon teriyaki and vegetarian tempura to cold somen noodles and slow-cooked shiitake with shoyu.
All courses are covered: sushi and rice; soups and noodles; vegetables and seaweed; beans, tofu and eggs; fish and shellfish; poultry and meat; and desserts.
It features over 140 timeless recipes, including such famous regional dishes as sashimi, tempura, teppan yaki, miso soup, jewel-box sushi and hand-rolled sushi.
This comprehensive guide covers all aspects of Japanese cuisine, from its history and underlying philosophy to the unique ingredients, methods of preparation and cooking techniques.
Over 140 recipes, ranging from simple miso soups to raw fish sashimi, explain how to make all the well-known Japanese dishes, as well as regional variations. Each of the recipes is presented with clear step-by-step instructions and stunning photographs.
Published here in a handback format, the original volume won the World Cookbook prize as the best book on an Asian subject.
It will be treasured by all who enjoy creating simple and elegant food.
BIC: