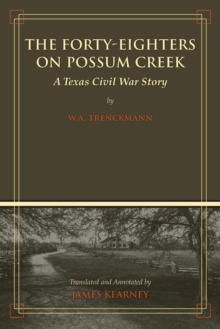 The Forty-Eighters on Possum Creek : A Texas Civil War Story
1933337842 / 9781933337845
152 x 229 mm 300 pages, 10 illustrations
The Forty-Eighters of Possum Creek: A Texas Civil War Story is a departure for State House Press.
This remarkable work of vintage historical fiction focuses on the life of one young man, Kuno Sartorius, who grows up and comes of age in a community of educated German immigrants during the waning months of the Civil War.
Author William Trenckmann serialized the novel in his newspaper, Das Bellville Wochenblatt [The Bellville Weekly].
His novel, Die Lateiner am Possum Creek is one of the few works of fiction to treat the plight of the minority Texas Germans during the war.However, it is more than a German story, and provides vignettes of all aspects of life, and of all classes in Texas, on both the home front and the Trans-Mississippi theater.
Throughout are the young men from all walks of life brought together by Confederate conscription and facing the same hardships of war. Expertly translated and annotated by James C. Kearney, this novel becomes a shadow memoir of the American Civil War.
The educated German settlers of Millheim had fled their native land because of strife and revolution, choosing the bucolic life on the Texas frontier over the sophisticated university towns of Germany.
Their children, though, faced uncertainties of their own as Texas seceded and joined the Confederacy and depended on all military aged men to do their part in a cause few Germans in the neighborhood cared for, and to perpetuate slavery which most abhorred.
Kearney's notes help the reader navigate the story, and reveal the 'story behind the story.'
BIC:
FV Historical fiction, HBJK History of the Americas, HBWJ American Civil War