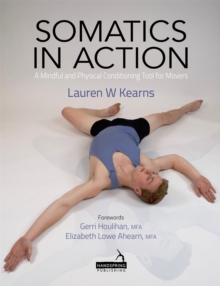 Somatics in action : utilizing yoga and pilates to promote well-being for dancers/movers
190914164X / 9781909141643
256 pages : illustrations
Somatics in Action describes a Pilates, yoga, and dance inspired movement system that helps movers achieve optimum strength, skeletal alignment, and body-mind engagement.
The book integrates the Pilates principle of strengthening abdominal and spinal musculature to support postural stability and balance with alignment-based yoga's principle of proper physical placement and an understanding of anatomical structure.
Three additional concepts that contribute to the foundation of SIA are imagery, experiential anatomy, and body integration.
This work focuses on dancers consistently engaging with their body and mind's inner wisdom, not only in quiet moments of reflection, but also in the very active moments of moving, dancing and creating.
Somatics in Action details the unique movement theory and practice developed by the author.
The book blends yoga, Pilates, experiential anatomy, body integration and imagery into a comprehensive, rigorous and creative pedagogical tool for educators and dancers.
The textbook outlines how dance, movement, yoga and Pilates educators can incorporate this technique into their teaching and curriculum. The book:* provides thoughtful and nuanced explanation of the technique as well asdetailed lesson plans and assignments that can be implemented immediately into auniversity or other curriculum. * can be used in any somatic based class (yoga, Pilates, dance conditioning), inmodern dance technique courses and also in creative movement curricula
BIC:
ASD Dance, VXM Mind, body, spirit: meditation & visualisation