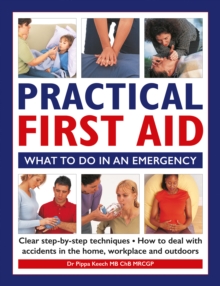 Practical first aid : what to do in an emergency
0754835030 / 9780754835035
29 cm 256 pages : illustrations (colour)
How to cope and care in an emergency - from splints, simple bandages and slings to life-saving techniques.
Designed to help you assess, recognize and handle medical emergencies of all kinds swiftly, calmly and efficiently.
Deals in detail with every level of problem, from sickness and headaches to serious incidents.
Special chapters on everyday health care andlife-saving techniques for babies and small children.
BIC: