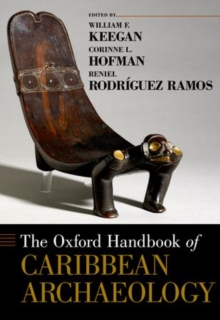 The Oxford handbook of Caribbean archaeology
0195392302 / 9780195392302
Stock expected by 13/12/2019
25 cm 592 p. : ill., maps
Professional & Vocational Learn More
Tertiary Education (US: College)
The Oxford Handbook of Caribbean Archaeology provides an overview of archaeological investigations in the insular Caribbean, understood here as the islands whose shores surround the Caribbean Sea and the islands of the Bahama Archipelago.
Though these islands were never isolated from the surrounding mainland, their histories are sufficiently diverse to warrant their identification as distinct areas of culture.
Over the past 20 years, Caribbean archaeologyhas been transformed from a focus on reconstructing culture histories to one on the mobility and exchange expressed in cultural and social dynamics.
This Handbook brings together, for the first time, examples of the best research conducted by scholars from across the globe to address the complexity of theCaribbean past. The Handbook is divided into five sections. Part I, Islands of History and the Precolonial History of the Caribbean Islands, provides an introduction to Caribbean Archaeology and its history.
The papers in the following Ethnohistory section address the diversity of cultural practices expressed in the insular Caribbean and develop historical descriptions in concert with archaeological evidence in order to place language, social organization, and the native Tainos and Island Caribs inperspective.
The following section, Culture History, provides the latest research on specific geographical locations and cross-cultural engagements, from Jamaica and the Bahama archigelago to the Saladoid and the Isthmo-Antillean Engagements.
Creating History, the fourth section, includes papers on specificissues related to the field, such as Zooarchaeology, Rock Art, and DNA analysis, among others.
The final section, World History, centers on the consequences of European colonization.
BIC:
1KJ Caribbean islands, HBJK History of the Americas, HDD Archaeology by period / region, JHM Anthropology