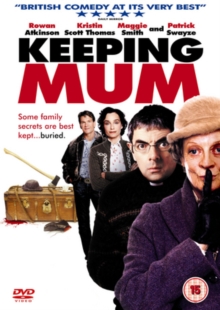 (15) Suitable for 15 years and over.
Comedy starring Rowan Atkinson as Walter Goodfellow, a well-meaning vicar of the parish of Little Wallop, who is so obsessed with writing the perfect sermon that he is oblivious to his wife Gloria's (Kristin Scott Thomas) dallience with her brash golf instructor, Lance (Patrick Swayze); neither does he notice that his daughter Holly (Tamsin Egerton) has a different boyfriend every week, and his young son Petey (Toby Parkes) is the whipping boy for the school bullies.
Enter Grace (Maggie Smith), the answer to the family's problems - a sweet grey-haired old lady, the charming and discreet new housekeeper, who has her own unique definition of keeping house - and a very unusual way of solving problems.
Commentary: Niall Johnson (Director)
Other Documentary: Funnies. Alternate Rosie Jones Beginning. TV Spots