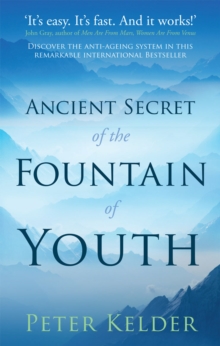 Ancient secret of the fountain of youthBook 1 ([New] ed)
0753540053 / 9780753540053
Legend has it that hidden in the remote reaches of the Himalayan mountains lies an ancient secret.
There, generations of Tibetan monks have passed down a series of exercises with mystical, age-reversing properties.
Known as the Tibetan Rites of Rejuvenation, or the Five Rites, these once-secret exercises are now available to us all in Ancient Secret of the Fountain of Youth by Peter Kelder.
Beginning with an account of his own introduction to the rites by way of Colonel Bradford, a mysterious retired British army officer who learned of the rites while journeying high up in the Himalayas, Kelder then reveals to us the five ancient Tibetan rites that can make you feel and look younger.
The philosophies in the book combine with the practical yoga-like positions of the rites and lifestyle/diet advice to provide you with the ultimate guide to preserving your youth.
Taking just minutes a day to perform, benefits include increased energy, weight loss, better memory, new hair growth, pain relief, better digestion, and just feeling much more youthful!
BIC:
VFMG Exercise & workout books, VXA Mind, Body, Spirit: thought & practice