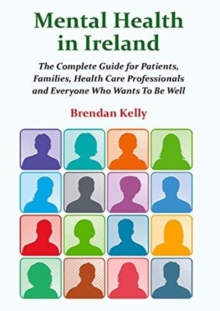 Mental Health in Ireland : The Complete Guide for Patients, Families, Health Care Professionals and Everyone Who Wants To Be Well
0995792712 / 9780995792715
234 x 156 mm, 740 grams 440 pages
One in four individuals will develop a mental illness at some point in their life, and virtually everyone knows someone with a mental illness or a family affected by suicide.
Each year, hundreds of thousands of individuals attend general practitioners for mental health problems; tens of thousands attend community mental health teams; and there are 18,173 admissions to inpatient psychiatric facilities in Ireland, of which 1,921 are involuntary admissions under the Mental Health Act 2001. Mental Health in Ireland provides a clear overview of mental health, illness and well-being in Ireland.
It includes a clear guide to common mental illnesses, including depression, schizophrenia, bipolar disorder, anxiety, dementia, eating disorders and suicide and self-harm.
For each condition, four key questions are answered: What are the signs and symptoms?
How common is it? What are the causes? What are the treatments?Written by one of Ireland's leading psychiatrists, the book also explains mental health policy and services in Ireland, how to access care and community support, the rules governing involuntary mental health care, and the underpinnings of happiness and well-being in Ireland today.
In clear, accessible language, Mental Health in Ireland offers an essential and unique guide for patients, families, carers, mental health professionals and anyone with an interest in mental health and illness.
BIC:
JKSM Care of the mentally ill, MBPK Mental health services, MMH Psychiatry