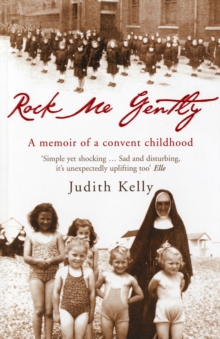 Rock me gently : a memoir of a convent childhood ([New] ed)
0747587140 / 9780747587149
Stock expected by 21/04/2021
20 cm xi, 288 p. : 1 ill.
A Bloomsbury super-lead non ficiton title For fans of Dave Peltzer's The Lost Boy, Andrea Ashworth's Once in a House on Fire and Kevin Lewis's The Kid. With its shocking expose of Nazreth House, this book will get huge publicity
In the 1950s, shortly after her father's death, Judith Kelly was left in the care of nuns at a Catholic orphanage while her mother searched for a place for them to live.
She was eight years old. Far from being cared for, Judith found herself in a savage and terrifying institution where physical, emotional and sexual abuse was the daily norm and the children's lives were reduced to stark survival.
As the months became years and no word came from her mother, she sought comfort instead from the girls around her, and especially the bright, angel-voiced Frances, who seemed miraculously untouched by the nuns' persecution and the abject misery surrounding her.
When a tragic accident robbed Judith of her dearest friend, the traumatic memories of the event were to trouble her deeply, long into her adult life.
Years later, at a kibbutz in Israel, Judith met and befriended an elderly Holocaust survivor.
It was a friendship that began with an instinctive recognition of the fear and suffering each had experienced, and one that would begin an emotional journey culminating in Judith's return to the Nazareth House orphanage to confront her memories and to achieve some measure of peace. "Rock Me Gently" is an astonishing, moving and deeply shocking memoir, and a story that resonates in the mind long after the final page.
BIC: