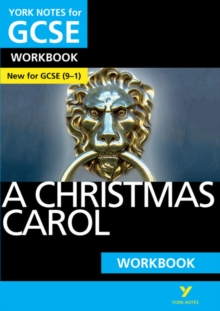 York Notes for GCSE (9-1): A Christmas Carol WORKBOOK - The ideal way to catch up, test your knowledge and feel ready for 2021 assessments and 2022 exams
1292138076 / 9781292138077
206 x 290 mm, 240 grams 80 pages
PREPARE FOR SUCCESS WITH YORK NOTES WORKBOOKS! York Notes for GCSE Workbooks offer a wide range of write-in tasks and exercises to boost your knowledge of the text and help you practise for the exam: * Learn: Tasks and answers on every area of the text, from Plot and Action and Characters to Key Contexts, Themes, Language and Structure, will help to enhance your learning and take your revision further. * Practise: With exercises on spelling, punctuation and grammar, sample paragraphs and exam-style questions, you can practise and perfect all the key skills you need to write top-quality answers. * Test yourself: Use the quick tests and longer questions to put your knowledge to the test.
Monitor your progress at every stage and stay on track for success! Did you know? York Notes for GCSE Workbooks are the perfect partner to the bestselling York Notes for GCSE Study Guides.
Use them together and prepare for success!
BIC:
4KHT For National Curriculum Key Stage 4 & GCSE, YQE Educational: English literature