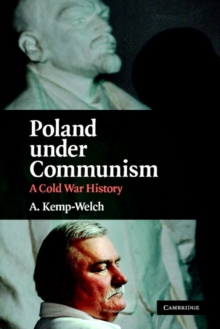 Poland under Communism : a Cold War history
0521711177 / 9780521711173
Usually dispatched within 4 weeks
This book was the first English-language history of Poland from the Second World War until the fall of Communism.
Using a wide range of Polish archives and unpublished sources in Moscow and Washington, Tony Kemp-Welch integrates the Cold War history of diplomacy and inter-state relations with the study of domestic opposition and social movements.
His key themes encompass political, social and economic history; the Communist movement and its relations with the Soviet Union; and the broader East-West context with particular attention to US policies.
The book concludes with a first-hand account of how Solidarity formed the world's first post-Communist government in 1989 as the Polish people demonstrated what can be achieved by civic courage against apparently insuperable geo-strategic obstacles.
This compelling new account will be essential reading for anyone interested in Polish history, the Communist movement and the course of the Cold War.
BIC:
1DVP Poland, 3JJP c 1945 to c 2000 (Post-war period), HBJD European history, HBLW 20th century history: c 1900 to c 2000, JPFC Marxism & Communism