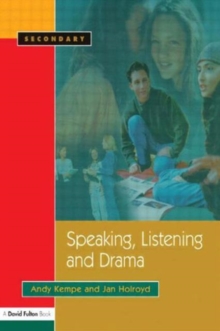 Speaking, listening and drama
1843120410 / 9781843120414
Usually dispatched within 4 weeks
research & professional Learn More
academic/professional/technical
Written for practising and trainee English and Drama specialists, this text clarifies what constitutes useful knowledge about spoken English and how pupils aged 11-16 can develop their skills in speaking and listening through the use of drama.
It provides practical guidance on: the national curriculum and KS3 Literacy Strategy requirements for teaching speaking and listening; English and drama exercises to improve speaking and listening skills; and methods of assessing a pupil's ability and understanding.
Suitable for the English classroom and the drama studio alike, this book succeeds in making this important element of the curriculum both coherent and exciting.
BIC:
4KHN For National Curriculum Key Stage 3, JNU Teaching of a specific subject, YND Drama & performing (Children's / Teenage), YQC Educational: English language & literacy