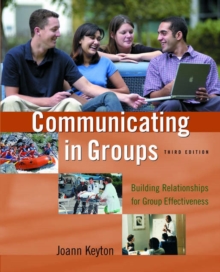 Communicating in groups : building relationships for effective decision making (3rd ed)
0195183436 / 9780195183436
Stock expected by 23/12/2019
This revision is suited for Group Communications courses found in nearly all 4-year colleges and universities in the country.
While most texts in this market stress the decision-making aspect of group communication to the near exclusion of other topics, Keyton addresses how this very conception is narrow and privileges business groups over all other type of groups.
Keyton puts more emphasis on the relational aspects of group communication in her text, examining a variety of group situations.
BIC: