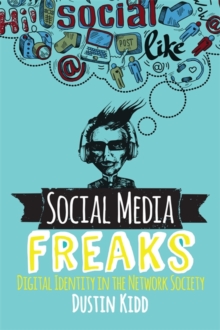 Social media freaks : digital identity in the network society
0813350662 / 9780813350660
Social media has been transforming American and global cultural life for over a decade.
It has flattened the divide between producer and audience found in other forms of culture while also enriching some massive corporations.
At the core of Social Media Freaks is the question: Does social media reproduce inequalities or is it a tool for subverting them?Social Media Freaks presents a virtual ethnography of social media, focusing on issues of identity and inequality along five dimensions-race, class, gender, sexuality, and disability.
It presents original and secondary findings, while also utilizing social theory to explain the dynamics of social media.
It teaches readers how to engage social media as a tool for social activism while also examining the limits of social media's value in the quest for social change.
BIC:
JFCA Popular culture, JFD Media studies, JFSC Social classes