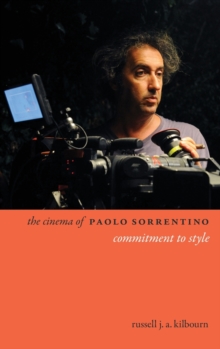 The cinema of Paolo Sorrentino : commitment to style
0231189923 / 9780231189927
24 cm 272 pages : illustrations
Paolo Sorrentino, director of Il Divo (2008) and The Great Beauty (2013) and creator of the HBO series The Young Pope (2016), has emerged as one of the most compelling figures in twenty-first-century European film.
From his earliest productions to his more recent transnational works, Sorrentino has paid homage to Italy's cinematic past while telling stories of masculine characters whose sense of self seems to be on the brink of dissolution.
Together with his usual collaborators (including cinematographer Luca Bigazzi and editor Cristiano Travagliolo) and actors (chief among them Toni Servillo), Sorrentino has produced an incisive depiction of the contemporary European condition by means of an often spectacular postclassical style that nevertheless continues postwar Italian film's tradition of political commitment. This book is a critical examination of Sorrentino's work, focusing on his emergence as a preeminent transnational auteur.
Russell J. A. Kilbourn offers close readings of Sorrentino's feature films and television output from One Man Up (2001) to The Young Pope (2016) and Loro (2018), featuring in-depth analyses of the director's exuberant and intensified film style.
Addressing the crucial themes of Sorrentino's output-including a masculine subject defined by a melancholic awareness of its own imminent demise, and a critique of the conventional cinematic representation of women-Kilbourn illuminates Sorrentino's ability to suffuse postmodern elegies for the humanist worldview with a sense of social awareness and responsibility.
Kilbourn also foregrounds Sorrentino's contributions to the ongoing transformations of cinematic realism and the Italian and European art cinema traditions more broadly.
The first English-language study of the acclaimed director's oeuvre, The Cinema of Paolo Sorrentino demonstrates why he is considered one of the most dynamic figures making films today.
BIC:
APF Films, cinema, APFA Film theory & criticism, APT Television