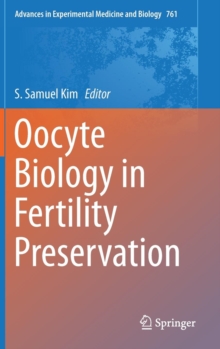 Oocyte Biology in Fertility Preservation (2013 ed.)
1461482135 / 9781461482130
155 x 235 mm, 336 grams 97 pages, 9 Illustrations, color; 3 Illustrations, black and white; X, 97 p. 12 illus., 9 illus. in
Fertility preservation has become one of the most important and fast growing fields of reproductive medicine. Although thereare several strategies for fertility preservation in female, most of them are still considered experimental. It is important to perfect the existing technologies, but also developing new strategies should be actively sought. The future development of fertility preservation strategies should be based on the sound scientific knowledge and principles.
One of the main objectives of fertility preservation in females is prevention of oocyte depletion.
The mechanisms of oocyte loss and survival in the ovary are complex, which include genetic control both in germ cells and in somatic cells, DNA damage and repair mechanism, apoptosis and autophagy, and other poorly understood molecular mechanisms. To develop clinically effective and safe strategies for fertility preservation, it is essential to know and understand the fundamentals of oocyte and ovarian biology at the molecular level. Thus, the purpose of this edition is to review the current progress in research related to molecular and genetic control of oocyte development that can be applied to fertility preservation. The main topics that are discussed in this publication include molecular signaling mechanisms of oocyte activation and loss, genomic integrity of oocytes, and epigenetics.
BIC: