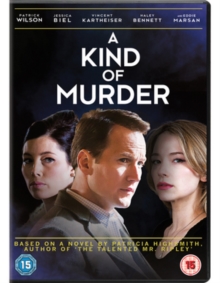 Bulgarian, Croatian, Czech, Danish, Dutch, English, Finnish, French, Greek, Hungarian, Icelandic, Norwegian, Portuguese, Romanian, Serbian, Slovak, Slovene, Spanish, Swedish
(15) Suitable for 15 years and over.
Patrick Wilson and Jessica Biel star in this thriller directed by Andy Goddard.
Rich, successful architect Walter Stackhouse (Wilson) has everything he wants, except for a happy marriage.
One night, at a party, Walter meets the young and beautiful Ellie (Haley Bennett) who takes an interest in him in a way he can't refuse.
When his wife Clara (Biel) sees Walter and Ellie together, she accuses him of having an affair and kicks him out of the house.
Although Walter longs to be rid of his wife, when her body is discovered underneath a bridge in an apparent suicide, he is just as shocked as everyone else that Clara is dead.
However, when he becomes the prime suspect in what turns in to a murder case - not helped by his recent obsession with the case of convicted wife-murderer Kimmel (Eddie Marsan) - he must devote his time to proving his innocence.