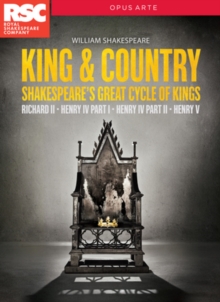 King & Country - Shakespeare's Great Cycle of Kings
DVD (DVD / Box Set (NTSC Version))
Gregory Doran directs these performances of Shakespeare's tetralogy of historical plays by the Royal Shakespeare Company, recorded between 2013 and 2015 in Stratford-upon-Avon.
In 'Richard II' (2013) David Tennant plays the title role of the self-centred King of England.
His inadequacy as a leader eventually leads to his downfall, but the disgraced monarch undergoes immense psychological trauma before he can accept his fate.
In 'Henry IV: Part I' (2014) King Henry (Jasper Britton) is troubled by the behaviour of his son and heir, Prince Hal (Alex Hassell), who has forsaken the Royal Court to waste his time in taverns with the likes of Sir John Falstaff (Antony Sher), an old, fat, jovial drunkard who captivates the young prince with his zest for life.
In 'Henry IV: Part II' (2014) the King is confined to his bed with a serious illness, with his son Hal next in line to the throne.
Hal's suitability for the role, however, concerns the present king even as his death approaches and Hal takes the decision to spend less time with his friends in preparation for the responsibilities of leadership. 'Henry V' (2015) follows King Henry V (Hassell) as he attempts to conquer France during the Hundred Years' War.
Interviews: Cast interviews
Commentary: Gregory Doran (Director)