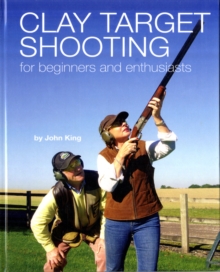 Clay Shooting for Beginners and Enthusiasts
0956346111 / 9780956346117
190 x 240 mm, 130 grams 124 pages, Numerous Colour illustrations
Clay Shooting for Beginners And Enthusiasts" A full colour very high quality hardback which has been a consistent top seller since its publication September 2009.
Since December 2009 it has always ranked in the Google top 3 clay shooting books and regularly ranks No.1.It has received 5 star reviews only; at Amazon.com Amazon.co.uk Waterstones on line and WH Smith on line.
This book is unique and a 'first of its kind' as it takes the reader on a relaxed enjoyable journey through a structured series of clay shooting lessons.
There is a logical start point at the introduction that reassures the reader to expect a comprehensive but very easy to understand solid grounding for Clay shooting.
The speed of the journey is at a gentle pace through a series of lessons covering everything that is needed to be a competent clay shot.
The friendly chatty style of easy to understand text is very strongly supported by simple and clear diagrams backed up by professional full colour pictures.
Technicalities and superfluous inputs are steadfastly avoided throughout the book. John King the author has fully utilised the experiences gained from coaching some 30000+pupils to ensure that only essential instructional details are included.
The book is aimed at complete beginners nervous about starting and novices/intermediates who have a basic level of competence; but are looking or an easy to understand system that will take them to the next level.
It is also aimed at experienced clay shots needing to enhance their techniques.
These experienced shots and many shooting coaches are finding it invaluable as a tool to help them pass on the joys of clay shooting to newcomers to the sport.
Highly acclaimed throughout the clay shooting press who are all unanimous about the fantastic value that this book represents at only GBP24,99.
BIC: