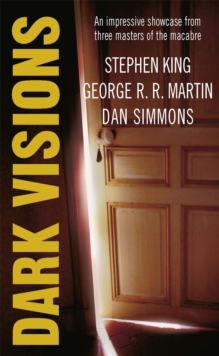 Dark visions : all original stories
0575402903 / 9780575402904
Reprint. Originally published: London: Gollancz, 1989.
First published in 1989, Dark Visions has been continuously in print ever since Stephen King is the world's bestselling writer, and author of the enormously successful The Green Mile Stephen King fans in their thousands are collectors and will buy all editions of his books The Green Mile sold over two million copies and topped the Guardian Top 100 Fastsellers list in its serial version. It is now a major film, starring Tom Hanks, which has been nominated for four Oscars Dan Simmons won the World Fantasy Award with his first novel, The Song of Kali George Martin is an award-winning author of th
Stephen King leads off with three stories, including 'Sneakers', about a very unusual haunting, and 'Dedication', one of the most powerful and unsettling of all his works.
Dan Simmons pays homage to Philip K Dick with 'Metastasis', one of three highly accomplished stories. And George Martin rounds off the book with the brilliant werewolf novella, 'The Skin Trade'.
Dark Visions is a brilliantly original showcase from three masters of the macabre.
BIC: