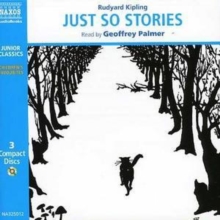 Just So Stories
9626342501 / 9789626342503
'I am the cat who walks by himself and all places are alike to me.' Here are the delightful stories which Kipling first told to his own children before setting them down on paper.
How the Camel got his Hump, How the Leopard got his Spots, How the Elephant got his Trunk, the Butterfly that Stamped and many others.
They remain unforgettable - magic fables told by a master of children's literature.
To hear them - in their unabridged form as here - is to enjoy them in their original form.
With delightful classical music from Dvorak and Janacek.
BIC:
Title Unavailable: Out of Print
Other Formats