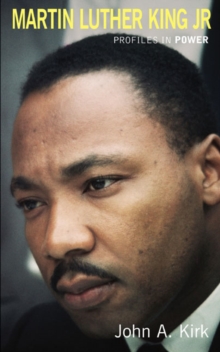 0582414318 / 9780582414310
Stock expected by 20/12/2019
Martin Luther King Jr exercised a tremendous degree of influence in a movement that between 1955 and 1965 successfully dismantled a system of legalised racial segregation and disfranchisement entrenched for over sixty years in the United States.
How did King, who came from a subordinated group within American society, help effect this change?
What background, characteristics, abilities and ideas enabled him to do this?
Why was King so important in shaping the civil rights movement?
John A. Kirk looks at the sources of King's power in the black community and its relationship to wider American society, focusing particularly on the role of the black church, the philosophy of nonviolence and issues of leadership, whilst paying due attention to the voices of King's critics and detractors and to the limitations of his power.
He locates King firmly within the context of other leaders and organisations, voices and opinions, and tactics and ideologies, which made up the movement as a whole.Fifty years after the Montgomery bus boycott, which launched King's movement leadership, this book moves beyond the all-too-often oversimplified story of King's life and times to provide an innovative analytical framework for understanding the role played by one of the United States' most important historical figures.
John A. Kirk is senior lecturer in US History at Royal Holloway, University of London.
He has written extensively on the history of the civil rights movement, including "Redefining the Color Line: Black Activism in Little Rock, Arkansas, 1940 - 1970" (2002) which won the 2003 J.
G. Ragsdale Book Award.
BIC: