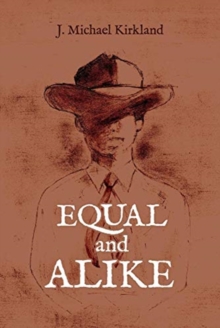 Equal And Alike
1098304489 / 9781098304485
6 x 228 mm, 0 grams 300 pages
A young man leaves his father's farm to make his way.
He gravitates to Independence, Missouri, in mid 19th Century. It is not long before Argonauts form wagon trains to depart the city to make the trip across the continent to seek their fortune in search of gold in the California wilderness.
Joshua McBride is curious.He happens upon a meeting designed to recruit members to a company of gold seekers bent on making a fast trip to the goldfields.
The man responsible for the meeting is Luther Chambers, a retired Army Captain whose accomplishments and demeanor demonstrate some prowess at providing safe and sound passage.
Joshua is hooked.At the appointed time, all one hundred twenty souls hell-bent on getting to California begin a journey that will forever affect the participants.
All sorts of men from all sorts of cultures and lifestyles trust Captain Chambers to get them to the Mother Lode in one piece.
These pilgrims have one objective; a quick and safe trek to the gold.The relationship between Joshua and Luther flourishes.
Joshua learns a great deal from Captain Chambers on the arduous journey.
The mentor is careful not to reveal the identity or purpose of six members of the company who mingle as little as possible with the remainder of Pilgrims.
The leader of this small band will play a pivotal role in the lives of Joshua and the Captain.A plethora of experiences, good and bad, befall the young man and his mentor.
Once in San Francisco, they part company and go each their own way.
Joshua is content with his solitude. Events change his circumstances and he is thrown into a string of trials he has difficulty grasping.
Multicultural relationships, diverse cultures, and ethnicities leave deep impressions on Joshua's soul.
Bias manifests itself in virtually all those he comes in contact with.Joshua's attraction to gambling frustrates Chambers who, although not in contact with Joshua that frequently, maintains vigilance on his young friend.
Luther wants Joshua to seek a more stable life, however, Joshua is skillful enough to make substantial money at the tables in the gaudy casinos in Portsmouth Square.
His success breeds a strong attraction.Joshua believes he has chosen his own path, however the circumstances he is subjected to dictate his trajectory into a lifestyle far beyond his imagination when he began the journey from Independence, Missouri.
BIC: