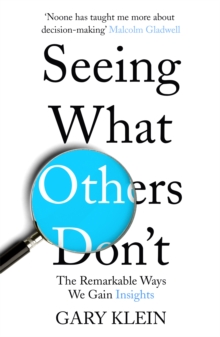 Seeing what others don't : the remarkable ways we gain insights
185788678X / 9781857886788
Stock expected by 06/08/2021
20 cm 281 pages : illustrations (black and white)
Reprint. Originally published: 2014.
'No one has taught me more about the complexities and mysteries of human decision-making' Malcolm Gladwell'Gary Klein is a living example of how useful applied psychology can be when it is done well' Daniel KahnemanInsight is everything.
At its most profound, it can change the world. At its simplest, it can solve everyday problems. It can be used to build businesses, solve crimes, progress science and make many aspects of our lives quicker, easier, bigger or better. Yet remarkably we often unwittingly build barriers to seeing what is in front of us.
Both as individuals and organisations we can hold on to flawed beliefs and conform to established processes that can interfere with our perceptions.
Having clear insight can transform the way in which we understand things, the decisions we make and the actions we take. In this groundbreaking study, renowned cognitive psychologist Gary Klein uses an eclectic miscellany of real-life stories to bring to life the process of insight.
He demonstrates the five key strategies for spotting connections and contractions to ensure you too can see what others don't.
BIC: