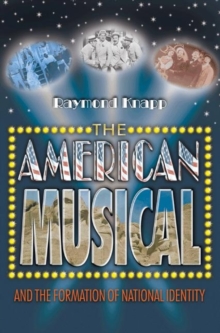 The American musical and the formation of national identity
0691126135 / 9780691126135
24 cm xxi, 361 p. : ill., ports.
research & professional Learn More
academic/professional/technical
Reprint. Originally published: 2005.
A stunningly original, breakthrough book whose contribution to musical scholarship will be substantial and exceptionally valuable. This book moves in directions I had never considered, forcing me to think about musicals in a truly fresh way. The author analyzes the music of this repertory in an ingenious (and highly readable) fashion that consistently illuminates connections to historical and critical ideas. It is thus the first book that succeeds in presenting the music of musical theater as a full-fledged cultural and artistic phenomenon, wholly justifying scholarly scrutiny. A brilliant ana
The American musical has achieved and maintained relevance to more people in America than any other performance-based art.
This thoughtful history of the genre, intended for readers of all stripes, offers probing discussions of how American musicals, especially through their musical numbers, advance themes related to American national identity.
Written by a musicologist and supported by a wealth of illustrative audio examples (on the book's website), the book examines key historical antecedents to the musical, including the Gilbert and Sullivan operetta, nineteenth and early twentieth-century American burlesque and vaudeville, Tin Pan Alley, and other song types.
It then proceeds thematically, focusing primarily on fifteen mainstream shows from the twentieth century, with discussions of such notable productions as "Show Boat" (1927), "Porgy and Bess" (1935), "Oklahoma!" (1943), "West Side Story" (1957), "Hair" (1967), "Pacific Overtures" (1976), and "Assassins" (1991).
The shows are grouped according to their treatment of themes that include defining America, mythologies, counter-mythologies, race and ethnicity, dealing with World War II, and exoticism. Each chapter concludes with a brief consideration of available scholarship on related subjects; an extensive appendix provides information on each show discussed, including plot summaries and song lists, and a listing of important films, videos, audio recordings, published scores, and libretti associated with each musical.
BIC: